Knicks Notes
On Saturday night Eddy Curry had the biggest and best game of his career, shooting 71% from the floor, and scoring 36 points. Curry left the game in the final seconds to the chants "Eddy, Eddy, Eddy," and, as someone who was at the game, and chanting along with the crowd, Curry has officially gotten on the Knicks' fan's good side. However, Stephon Marbury, one of the most hated (and loved) Knicks left the game early with an apparent arm injury.
Sitting in the stands I noticed Marbury's injury before the coaching staff even did, and I did not know if it was an injury worth mentioning or not. Until Mardy Collins entered the game in the fourth quarter to give Nate Robinson a breather, so the Isiah Thomas could talk to him. With Jamal Crawford, Nate, and Quentin Richardson all in the game Mardy Collins was the only other guard on the bench, which showed me Marbury's injury was serious enough for him to be inactive for the rest of the game. This all coming on Marbury's best night passing the ball (9 assists and 1 turnover in 23 minutes), despite Marbury's 2 points, and 2 missed free-throws on 2 attempts.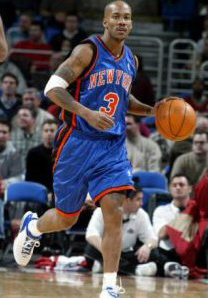 Later that night it became apparent that Marbury had a right arm contusion, and he was only day-to-day. No matter how many Knicks fans want to see Marbury dumped for a sack of potatoes the Knicks need him to play like he is capable of for them to go anywhere this season. Even though the Knicks wound up winning the game against the Bucks, Marbury is still one of their most talented players, and he has played better of late. As for the injury he suffered the
North Jersey Media
reports that Marbury will most likely play against the Boston Celtics on Monday.
Jared Jeffries is also expected to
make his season debut
against the fourth place Celtics, who beat the first place Nets on Saturday, fueled off of Al Jefferson's 29 points, and Paul Pierce's buzzer beater. Wally Szczerbiak, who has averaged 18 points against the Knicks in Knicks-Celtics games this year, is listed as doubftul.