Knicks dominate Heat, All smiles in New York
If you asked anybody who follows the Knicks if they would take a 4-6 record in the first ten games with this schedule, most fans would take it in a heartbeat. Now that the Knicks have destroyed the defending Shaq-less Heat and the playoff bound Washington Wizards on back to back games the Knicks are all smiles.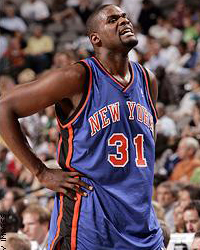 The 100-76 victory against the Heat on Friday night was the prototypical game that Isiah Thomas was talking about all pre-season and off-season. The Knicks had 21 assists, and no player had more than six assists (Quentin Richardson). The Knicks also had eight players with at least eight points, and five players in double figures, but none with more than 19 (Jamal Crawford). The defense was there too. The Heat scored 27 points in the second quarter, but in the third and fourth quarter's combined the Heat scored 27 points.
The Knicks had 16 total turnovers in the game, but seven of the turnovers came in the fourth quarter, which featured mainly players like Mardy Collins, Jerome James (in his first real minutes of the season), and Malik Rose. Speaking of Jerome James, he was terrific in his 14 minutes, scoring nine points with one block and three rebounds. If James can play like he did on Friday on most nights the Knicks will have quite the 1-2 punch with James and Curry.
The Knicks will head home to play tonight against the Celtics. The fans will most definitley be behind the Knicks, and I expect another impressive win. Game time is 7:30.