Second Day Workouts Scouting Reports
After their
first day of workouts
Isiah Thomas invited four more players for Wednesday's workouts. The list, and my scouting reports of the four seniors, are as follows:
Stephane Lasme- F, 6-8, 215, Massachusetts
Lasme plays the power forward position, however his 6-8 frame may be a bit small to play PF consistently in the NBA. Since Lasme is only 6-8 a bigger, stronger defender can easily keep him out of the post. Since Lasme cannot create off of the dribble he can't even attempt to play small forward. However, Lasme makes up for his lack of size in his athleticism and quickness. Lasme can run the floor nearly as well as players a few inches smaller. Lasme has garnered comparisons to former Denver Nugget, Keon Clark. Clark was known as a good role player (11.3 ppg, 7.4 rpg, and 1.50 blocks in 27 minutes), but only played six years in the NBA, and couldn't stay on one team for more than three years. Unlike Clark, Lasme has shown good passing skills, and, unlike Eddy Curry, recognizes double teams. Probably the most important part of Lasme's game is his high character.
Brandon Wallace- F, 6-9, 203, South Carolina
Should Wallace join the Knicks he would be the second USC player that the Knicks would have drafted in as many years. Wallace in many ways compares to Renaldo Balkman, the other USC Knick player. Renaldo Balkman is 6-8, 208lbs and Wallace is 6-9, 203lbs. Balkman averaged 9.6 ppg, 6.3 rpg, 1.9 apg, 1.7spg, 1.3bpg, and a 54% free throw percentage in his junior year of college. Wallace averaged 9.9 ppg, 9.4 rpg, 1.9 apg, 1.3spg, 2.3 bpg, and a 53% free throw percentage in his senior year this year. Those numbers are eerily similar. Since both players are so similar it would be interesting to see if Isiah would draft another player with similar abilities to Balkman. A team with too many of the same players will not succeed, Wallace would join Balkman, Jeffries, and Malik Rose as plus defenders who struggle to score.
Jamar Wilson- G, 6-1, 185, Albany
The 2006 America East player of the year has a terrific all around game. Wilsons' 18.8 ppg, 6.2 rpg, and 4.8 apg were amongst the best overall stats in all of college basketball. Wilson was Albany's team captain in his junior and senior year which shows signs of being a team leader, something the Knicks drastically need. Wilson's career 80.8 free throw percentage, and 45.6 field goal percentage show signs of a terrific shooter. In addition, Wilson had a career 37.5 three point percentage. That number will drop in the NBA because the three point line is farther back, but it shows Wilson can hit a long range jump shot. Scouts worry about Wilson's size, and slight frame. At only 185 lbs Wilson will need to bulk up to earn consistent playing time in the NBA.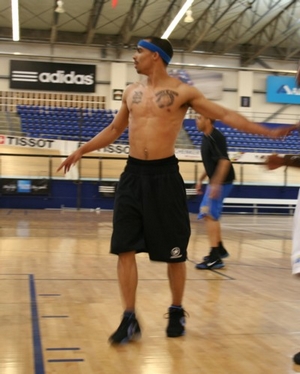 Dashaun Wood- G, 5-11, 180, Wright State
Wood's tendinitis in his knee makes his play sporadic, and the knee problem at such a young age could make many teams shy away. Wood is another good leader on and off the floor. When he isn't setting his teammates up for open jumpers he is heard encouraging his teammates to play hard and keep their heads up. Reports from Orlando said that in a 5 on 5 game that included, Corey Brewer, Martell Webster, and Kirk Snyder, Wood was easily the best player on the floor. Wood controlled the tempo of the game, and has the unique talent of making players look like they have played with him for years. Wood is a good shooter and has a terrific first step, but his size worry some teams. However, despite his size Wood is not afraid of anyone and plays very tough on defense. Before the Orlando camp Wood was not expected to get drafted however, some scouts believe that Wood will now wind up getting drafted.
It should be noted that the Knicks and the Nets are holding these workouts together, so some of the players not have been invited by the Knicks.