Crawford's Injury Shuts Him Down For At Least Rest of Season
Today I came home from work to find out that the
Knicks
shooting guard, and second best scorer, is out for the year with ankle surgery. When I heard the news I wasn't sure how to react. Obviously I felt bad for Crawford, but immediately after my thoughts went straight to how this would affect the team. In my opinion I can see one of two things happen. The
Knicks
will get worse for obvious reasons, or we will be better, and
noticeably
so better. Allow me to explain.
With Crawford out Isiah
announced
that Quentin Richardson will move to the two guard with Jared
Jeffries
once again starting at SF. Right away this improves the team defense dramatically. Crawford is a below average defender, and has even lost the person he was defending at key moments (most notably against Utah). Richardson is one of the
Knicks
better defenders, and
Jeffries
is in the NBA for his defense. With
Marbury
normally playing solid defense at point guard, and Q plays good defense on most nights, whether it is against a
SG
or a SF. Also, the
Knicks
will always have a plus defender at SF.
Jeffries
is
obviously
starting, and the only true SF to back him up is
Balkman
. In my opinion
Balkman
is the
Knicks
best defender in terms of steals of and shot blocks, and
Balkman's
minutes should
definitely
increase.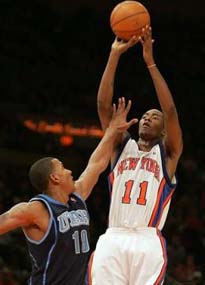 Also, even though the
Knicks
offense runs through Eddy Curry, curiously Crawford is averaging nearly three more shots per game than Curry is. That means that the
Knicks
have 15 extra shots to play around with and spread out. This means that all of the scorers on the team should see a rise in their numbers. Curry most certainly will get even more touches,
Steph
as well. With Q at the shooting guard I could see Isiah featuring him in the post a couple of possessions a game. Most SF can't guard Q's post up game,
much-less
SG
. Obviously not everything is positive with Jamal out, there are also a handful of negatives.
The main loss is Crawford's scoring. Crawford was second on the
Knicks
with 17.9 points per game. But, in his 36 games as a starter Crawford averaged 20.8 points and 4.9 assists. In addition the
Knicks
are 18-18 with Crawford in the starting lineup, and 8-14 without him. An underrated facet that the
Knicks
lose is Crawford's camaraderie with Eddy Curry. Crawford usually has 1-3 "chemistry" passes to Curry each game, such as an alley-
oop
or an instinctive cut pass. An obvious loss is the
Knicks
team depth. The
Knicks
had six guards entering this season (
Marbury
, Nate, Collins, Q, Crawford, Francis) and they are now left with four, with two of them being question marks on what they will bring to the table. Last but not least, Crawford's
ability
to be clutch and take over games
offensively
is gone. However, judging by
Marbury
taking over the fourth quarter last night
Steph
certainly has the
ability
to take over quarters and lead the
Knicks
to a victory. The question is if he can do it on a consistent basis like Crawford did.
Nate and Collins will obviously be seeing more time with Crawford out and I'm not sure whether these are positives or negatives. Robinson has played
sporadically
throughout his career. Nate will be part of the second unit which may be the perfect place for him. I don't think Nate can contribute consistently in the starting due to his lack of defense and streaky shooting. The 22 year old is a spark plug, and spark plugs usually fit the best in the second unit. Nate does have a keen
ability
of blowing by defenders and flying at the hoop, and I can see him averaging around 12 points a game the rest of the way. Collins, on the other hand, is a huge question mark. The rookie has only had three games this year where he has played double digits in minutes. When he has played he has shown flashes of being a good pass first point guard. With the exception of an 11 point performance against the Clippers Collins' shot has been dreadful this year, even
air-balling
a few jump shots. In fact, if you take away the Clippers game in which he shot 4-9 and 3-6 behind the arc Collins' field goal percentage for the year is 31%. Collins is known as a defensive player, however, so perhaps
Balkman
and Collins could make some things happen whenever they are both in the game.
With all of that said the
Knicks
are known for their offense and lack of consistent defense, if the
Knicks
do in fact improve
defensively
will they score enough points to win games? Stay tuned, they play the Celtics Wednesday night, a game they must win. Keep an eye on how Isiah uses the bench, and how the team responds to playing without Crawford. If Lee returns look for a big game out of him.